Oliver Casa di Campagna Retreat
Our Accommodation Partner
Hester Creek Estate Villas
Hester Creek's six Mediterranean-style Villa suites provide sumptuous accommodation high on the hill, with unsurpassed vineyard and orchard views to the valley below.
Sample Itinerary*
Intimate culinary experiences, deep connections with the land and its many gifts, cycling that is simply unforgettable and new friendships that will endure forever. We are fortunate enough to have all this to work with when we create your bespoke cycling experience. Here is just one possible itinerary:
Day One

Day One - After your check in at Hester Creek's Villas, join us for a welcome reception on the patio where you'll be introduced to the Giro Team and your guesthouse host. After the reception, enjoy your first unforgettable dining experience at Terrafina Restaurant, right at Hester Creek.

Dinner - Meaning 'from the earth' Terrafina is a gorgeous Tuscan style restaurant nestled amongst the vines of Hester Creek Estate Winery in Oliver. This unique vineyard dining experience provides the perfect partner to be enhanced by the culinary and service expertise of RauDZ Creative Concepts Ltd.

Day Two

Day Two - Today, if you're up for it, you can join us for a morning yoga session on the hillside overlooking the vineyards. Then, after you have breakfast, we'll meet you at the Villas with your bikes and start our ride right from Hester Creek. We begin by following the Channel Trail that connects Oliver and Osoyoos, along the route of the famous Brigade Trail. We'll share the history as we ride towards Oliver and our first stop, coffee and gelato at Medici's. Then, we continue north and hit our turn around point in the shadow of McIntyre Bluff, riding back on Tuc el Nuit Drive. We'll ride through the South Okanagan's Black Sage wine country, where we'll stop for a private tour and picnic lunch at Le Vieux Pin. Then, it's a short ride on Black Sage down to the tour end near Burrowing Owl Winery. Dinner tonight is at Masala Bistro at Kismet Winery.

Lunch - A gourmet al fresco lunch will be served by the Giro Team at Le Vieux Pin winery

Dinner - New on the South Okanagan culinary scene, Masala Bistro draws on the rich Punjabi influence in the area to fuse locally sourced ingredients with traditional Indian recipes.

Day Three

Day Three Today, we shuttle you north to Naramata where we'll start riding on the Kettle Valley Rail Trail. We'll descend through old grove Ponderosa Pines to the rolling vineyards and orchards of Naramata, making a few well chosen stops on the way for cheese and wine tasting. Lunch today will be at Frog City Café in Kaleden's beautiful Linden Gardens. After lunch, we'll continue to ride to Okanagan Falls and then tackle our last climb of the day, up to the stunning location (and spectacular wines) of Blue Mountain where we'll enjoy a sweet snack stop before our shuttle ride back to the Villas. The dinner destination tonight is just up the valley - Miradoro Restaurant at Tinhorn Creek.

Lunch - Frog City Cafe offers an eclectic atmosphere and fresh menu selections with produce from their vegetable garden and local farmers.

Dinner - Miradoro Restaurant is a partnership between Tinhorn Creek and BC culinary legend Manuel Ferreira. Panoramic views of the valley below; clean lines, and a comfortable atmosphere. Locally sourced ingredients prepared by an award-winning chef. All of this, in the heart of the south Okanagan – with a hint of Mediterranean on the palate.

Day Four

Day Four For our last day of cycling, we'll hop over one valley to the stunning Similkameen. We'll shuttle you to Princeton and we'll ride along the Similkameen River to Hedley, where we'll learn more about the mining history of this town. Then we continue to Keremeos and Cawston and the emerging stars of it's wine region. Our lunch stop will be the Kitchen at the historic Keremeos Grist Mill. After a short post-lunch ride (and a wrap up wine tour and tasting) the Giro Shuttle will pick you up in Cawston and take you back to the Villas where an exceptional experience awaits. Your Giro hosts will join you a private Chef's Culinary Experience at Hester Creek.

Lunch - Enjoy homemade soups carefully crafted from scratch, delicious sandwiches, wholesome salads and other hearty entrees, all of which are handcrafted by the Kitchen's talented staff, to feature the finest seasonal ingredients found in our spectacular valley either from their own garden or from their fantastic neighbours.

Dinner - At Hester Creek Estate Winery, they offer you the rare experience of interacting with an acclaimed chef in an intimate setting. Multi-course menus skillfully pair locally sourced, seasonally inspired flavours with our award-winning wines. Watch as the chef prepares each course before you and shares little known culinary secrets. These evenings are not so much a hands-on experience but more of an interactive evening with the chef.

Day Five

Day Five This morning, enjoy a leisurely breakfast at the Villas before your travels home. If you're not quite ready to leave the Okanagan, ask us about other ideas to extend your stay!
* Our sample itineraries tend to be packed with options. As we mentioned, this is just a guide and - as such - we thought it best to give you as many options as possible.
The world calls this the Golden Mile. Sun drenched, abundantly blessed and with an intimate connection between the land and it's people, you'll soon see why. Build on the spectacular foundation of Hester Creek Estate Winery, Terrafina Restaurant and it's superb guest villas with a carefully curated collection of amazing experiences tailored just for you.
Sample Pricing
5 Days / 4 nights
STARTING AT
$2640/p.p. dbl occ.
Single Supplement $600
$650 for Deluxe Suites
Includes Accommodation in Executive Suite. Deluxe Suites available for upgrade fee of $150.
All (11) meals included
Guided Tours and Shuttle Services
(Airport Transfers available for extra fee)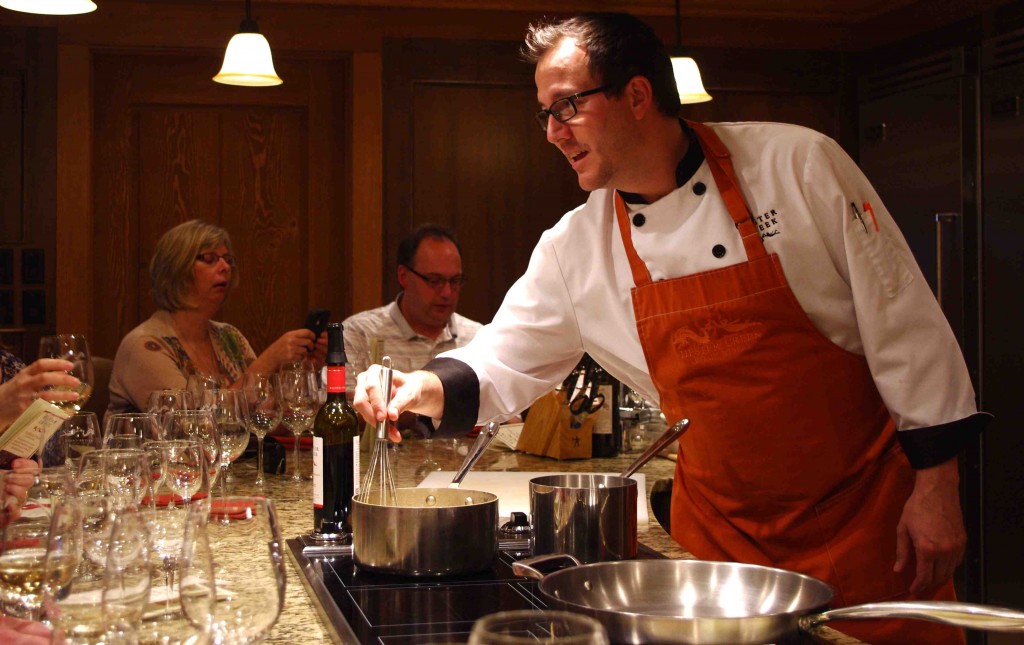 All Our Casa Bespoke Package Suggestions