West Kelowna Casa di Campagna Retreat
Our Accommodation Partner
Apothic Bed and breakfast
Nestled in the side of Mt. Boucherie, Apothic offers panoramic lake, mountain & vineyard views, large suites with en suite bathrooms, 30 ft. heated pool , hot tub and infrared sauna.
Sample Itinerary
We have provided this itinerary as a sample of what your Bespoke Vacation could include. Use this as a starting point, but feel free to let your imagination soar. The sky is the limit here in the Okanagan!
Day One

Day One - After you check in at Apothic Bed n Breakfast we'll meet you for a welcome reception by the pool. Meet the Giro team and Darci and Frank, your hosts at Apothic while you enjoy the fruits of the Okanagan. After the reception, we'll shuttle you to tonight's dinner destination, Old Vines Restaurant at Quail's Gate Estate Winery.

Dinner - Named one of the Top 100 Restaurants in Canada, Old Vines Restaurant is an all-season culinary destination that offers guests the ultimate food and wine experience in a spectacular vineyard setting.

Day Two

Day Two - This morning, Darci and Frank will serve a gourmet breakfast while get your bikes ready. Today we're beginning our ride right from your front door! This circle route winds around scenic West Kelowna with stunning lake views and fascinating stops along the way. Our support team will meet us with lunch at Off the Grid Organic Winery (where you'll get to meet the most famous goats in the Okanagan). After lunch, we'll continue our explorations, eventually working our way up to the spectacular hilltop setting of Mission Hill Estate Winery (that's the picture at the top of this page). Then it's an easy ride back to Apothic. In the evening, we'll shuttle you to Indigenous World Winery for a private tasting. We'll also here about the history of the Okanagan people as we share some stories of the Syilx nation. Then, it's dinner at the Red Fox Club.

Lunch - A gourmet al fresco lunch from Waterfront Café will be served by the Giro Team at Off the Grid Winery

Dinner - Red Fox Club is an aboriginal inspired restaurant using local greenhouses, farms, cheese makers and purveyors with a casual approach to dining. The menu is designed with native food in mind. Indulge in revolving dishes crafted for any palate from the Red Fox boards and elk chili to the crispy salmon fritters and Indigenous salad featuring local foraged greens.

Spare Time Option - Book a relaxation massage in the afternoon from Giro's own massage therapist. Don't stress, we'll come to you at the guesthouse. After all, this is a relaxation massage.

Day Three

Day Three Today, if you're up for it, you can join us for a morning yoga session by the pool overlooking the vineyards. Then, enjoy another incredible breakfast from Frank and Darci! When you're ready to ride, we have a treat for you! Today, we'll shuttle you north to Lake Country where we'll ride along the agricultural benchlands and visit a few of our Giro friends before descending to Wood Lake for a lovely loop around the lake on the new Rail Trail. The Giro team will meet us with lunch en route at a secret destination. After our ride, we'll return to Apothic for a well earned break and a dip in the pool before dinner tonight, which is at Bonfire Restaurant at the Cove Resort.

Lunch - An al-fresco lunch will be served by the Giro Team at a secret lakeside location.

Dinner - Bonfire Restaurant's signature dishes combine classic and rustic cooking techniques, using only the best locally produced and sourced ingredients. Dine in the warm and inviting restaurant or indulge in the intimate lounge or on the stunning seasonal outdoor patio with panoramic views of Okanagan Lake.

Spare Time Option - Join us for an early morning yoga class overlooking Lake Okanagan before breakfast. It's a wonderful way to stretch out those muscles after a day of cycling.

Day Four

Day Four It's our last day of cycling and we've saved one of the Okanagan's great rides til the last. After breakfast at Apothic, we'll load up in the Giro shuttle in the morning and head to Myra Canyon, high above Kelowna. You'll ride the Kettle Valley Rail Trail over historic trestles and through 3 tunnels all the way back to Naramata, enjoying one of Canada's "must do" bike rides. Along the way, your guides will tell the fascinating story of this rail way and point out little known details enroute. Tonight, your Giro Hosts will join you for a special catered harvest dinner by the pool at Apothic. It will be an evening to remember, with 4 spectacular courses prepared by Chef Alessandro from Il Tavalino. Then we'll share a final evening of music and memories by the pool, under the stars of an Okanagan sky. Buona Sera – our Giro amici!

Lunch - The Giro team will meet you at rustic Chute Lake Resort with a hearty picnic lunch.

Dinner - Chef Alessandro from Il Tavalino will prepare a wonderful 4 course private long table Italian dinner just for you.

Spare Time Option - While Chef Alessandro is preparing supper, choose an optional private lake cruise on Okanagan Lake.

Day Five

Day Five This morning, enjoy a leisurely breakfast at the Bed n Breakfast before your travels home. If you're not quite ready to leave the Okanagan, ask us about other ideas to extend your stay!
* Our sample itineraries tend to be packed with options. As we mentioned, this is just a guide and - as such - we thought it best to give you as many options as possible.
West Kelowna is an area ripe with possibilities. Exceptional wineries, amazing culinary experiences and wonderful cycling all await on the westside of Okanagan Lake. Add to this the fact that downtown Kelowna is just a few minutes away and you have all the elements of an exceptional cycling retreat.
Sample Pricing
5 Days / 4 nights
STARTING AT
$2500/p.p. dbl occ.
Single Supplement $500
Includes accommodation in one of Apothic's three deluxe suites
All (11) meals included
Guided Tours and Shuttle Services
(Airport Transfers available for extra fee)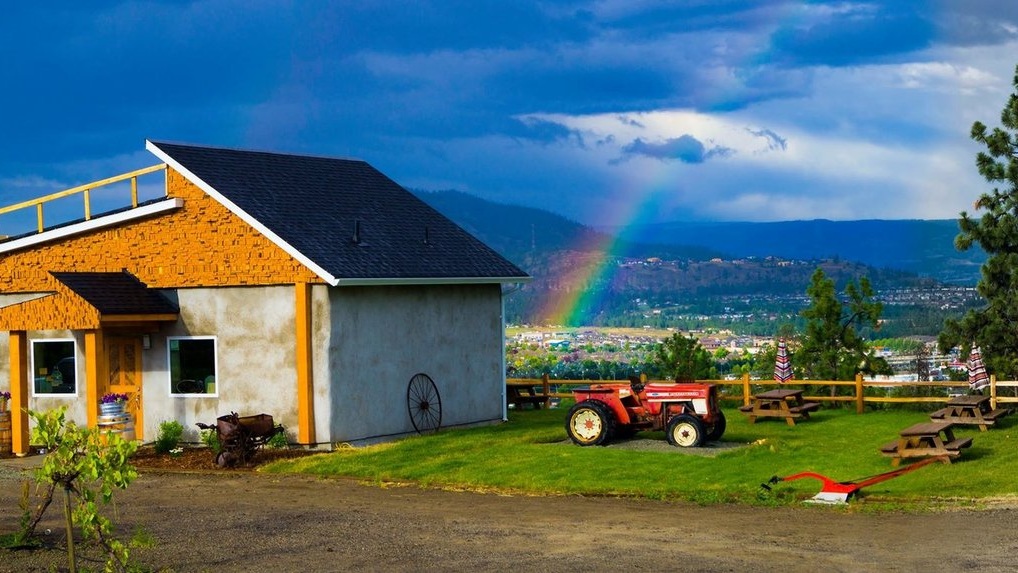 All Our Casa di Campagna Package Options